Reaper and its characters are copyright ©2007 The CW and the show's respective producers. This website is not authorized by the CW Network.
Page copyright ©2007 KryptonSite, unless the material is noted as coming from someplace else or being by an individual author. Reaper stars Bret Harrison, Tyler Labine, Missy Peregrym, Valerie Rae Miller, Rick Gonzalez, Ray Wise, Donovan Stinson, Andrew Airlie, and other people we'd probably do a better job of remembering if the show actually had opening titles.
REAPER: "CASH OUT" IMAGE GALLERY
Images copyright ©2007 The CW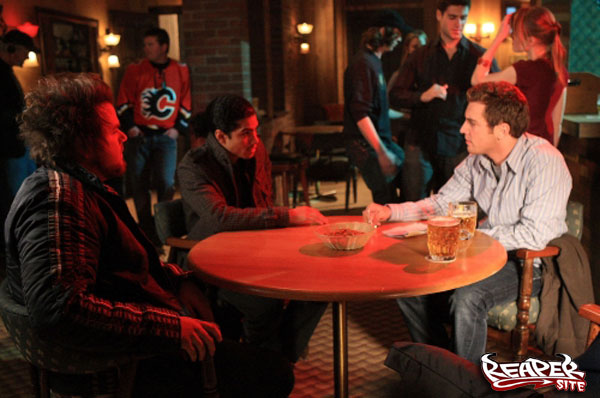 Well, apparently they're all friends again.
Other Episode Galleries: "The Cop" (Nov. 13) - "Ashes to Ashes" (Nov. 27 - with special guest star Melinda Clarke!) - "Cash Out"

---
Post about "Reaper" on our forum!