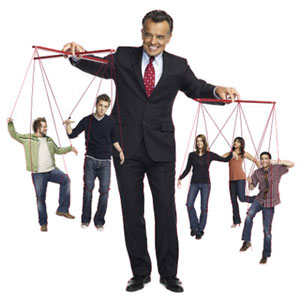 Reaper Season 2 In TV Guide's Winter Preview Issue!
The Jan. 5, 2009 issue of TV Guide Magazine hits subscriber mailboxes today, and within it - the Winter Preview issue - there are some hints of what's to come from executive producers Michelle Fazekas and Tara Butters.
Here's what it said:
Discovering that your parents sold your soul to the Devil doesn't exactly make for a happy 21st birthday. But Sam (Bret Harrison) found other things to celebrate in Reaper's first season while adjusting to life as the Devil's bounty hunter. Still, after battling a demon rebellion, seeing his father buried alive and learning that the Devil (Ray Wise) might be his real dad, our slacker hero might find it increasingly difficult to look on the bright side this season. "It's him dealing with, 'What if I really am the son of the Devil?' and 'Can I get anything out of that?'" says executive producer Michelle Fazekas. "The answer is no - no benefits. He is not going to make anything easier for you." On a brighter note: Sam's mortal dad isn't gone for good. "Dad will end up playing a big role in trying to help Sam."
Complicating the situation is the arrival of the Devil's suave, crooked son, Morgan (Armie Hammer). "Morgan is sort of jealous of Sam," Fazekas says. "It's really about two brothers competing for their dad's attenton." But is Sam really a part of this unholy family? "We'll have an answer by the end of the season," exec producer Tara Butters promises. And with only 13 episodes on the docket, fans won't have to wait until Hell freezes over.
Read some more Reaper Season 2 spoilers on our Spoilers page!
---
Post about "Reaper" on our forum!
| | |
| --- | --- |
| VISIT THE OTHER SITES IN THE KRYPTONSITE NETWORK! --> | |